Presidential Pardons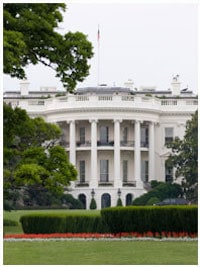 U.S. Presidential Pardons Lawyer in Chicago
Only the President of the United States can pardon people who have committed federal crimes. When persons are pardoned of federal crimes, they return to the state of innocence they had before the crime was committed.
Commutation vs. Pardon
Commuting is the act of reducing a sentence. A president has the ability to commute a sentence even before it has begun.
A full pardon can do the same thing — it can also reduce a sentence. But more commonly a pardon is granted after a person serves his prison sentence. And unlike a commutation, a pardon can absolve the person of his status as a convicted criminal and restore his civil abilities.

A presidential pardon will restore various rights lost because of the pardoned offense. It should lessen the stigma arising from a conviction, but it will not erase or expunge the record of that conviction. Therefore, even if a person is granted a pardon, he must still disclose the conviction on any form where such information is required, although he may also disclose the fact that he received a pardon. In addition, most civil disabilities attendant upon a federal felony conviction, such as loss of the right to vote and hold state public office, are imposed by state rather than federal law and may still have to be removed by state action. Because the federal pardon process is exacting and may be more time-consuming than analogous state procedures, pardon recipients are encouraged to consult with the appropriate authorities in the state of their residence regarding the available procedures for restoring their particular state civil rights both preceding and following a presidential pardon.
An executive clemency petition will need to be sought to obtain a presidential pardon. Warren J. Breslin is a skilled presidential executive clemency petitions lawyer who can successfully prepare and file your presidential pardon petition. Contact him, a United States presidential pardons attorney, online for a return call or call his law offices at 312-321-9070 for a free initial consultation. Attorney Breslin represents clients in Illinois and throughout the United States. In addition to being licensed in Illinois, Wisconsin, Colorado, and Florida, Warren Breslin is also licensed by the District of Columbia Court of Appeals and the Supreme Court of the United States.
The United States Department of Justice states the following:
"A person seeking executive clemency by pardon, reprieve, commutation of sentence or remission of fine shall execute a formal petition. The petition shall be addressed to the President of the United States and shall be submitted to the Pardon Attorney, Department of Justice, Washington, D.C., 20530, except for petitions relating to military offenses."
"In general, a pardon is granted on the basis of the petitioner's demonstrated good conduct for a substantial period of time after conviction and service of sentence. The Department's regulations require a petitioner to wait a period of at least five years after conviction or release from confinement (whichever is later) before filing a pardon application (28 C.F.R. § 1.2). In determining whether a particular petitioner should be recommended for a pardon, the following are the principal factors taken into account:
Post-conviction conduct, character and reputation
Seriousness and relative recentness of the offense
Acceptance of responsibility, remorse and atonement
Need for relief
Official recommendations and reports"
Distinguished AV Preeminent* rated Attorney Warren J. Breslin has been practicing criminal defense law for more than 30 years. He is honored to be listed in the Bar Register of Preeminent Attorneys*, a Martindale-Hubbell publication where lawyers look to find exceptionally qualified attorneys. He is accomplished in the preparation and filing of petitions for executive clemency and will be sure to provide the precise and most compelling information required in your petition.
The Office of the Pardon Attorney reviews pardon requests and recommends deserving petitions to the president. The president has the exclusive and sole discretion to grant or deny all pardon requests. Approximately 60 pardons a year are granted or about 10 percent of requests. A professionally prepared petition will give you a considerable advantage.
Obtaining a presidential pardon is a worthwhile pursuit. If you were convicted of a federal crime, a presidential pardon may be the only way to restore your rights and reputation.
While your petition is pending, if an urgent opportunity or need should arise while waiting for a determination by the president, a copy of your professionally prepared pending petition can be used by you to best explain past criminal history to others. It may impress a prospective employer or others that you have taken the initiative to clear your record.
Free Consultations with a Presidential Executive Clemency Petitions Lawyer
Contact Warren J. Breslin online or call his law office locally at 312-321-9070 to discuss your case. Warren Breslin is an accomplished AV Preeminent* rated criminal defense attorney with extraordinary writing ability who will work hard to help you obtain a presidential pardon. He represents clients nationwide seeking presidential pardons for all federal criminal convictions anywhere in the United States and also clients seeking governor pardons for Illinois criminal convictions. Warren Breslin's criminal defense law practice is in Chicago and in the Greater Chicago area, including Palatine.
Warren J. Breslin Law Offices
Fax: 312-321-9050
Phone: 312-321-9070
Free Phone Consultation
Business Hours: Monday – Friday 8:30 a.m. to 5:00 p.m.
Office Consultations by Appointment Only.